Tweet

日本語版の情報はこちらへ
Red Spider 2: Exiled is a Hong Kong Noir style Visual Novel.
This is a prequel to Red Spider:Vengeance.
There are 6 story routes with the different characters shown in the table below.
There are approximately 200,000 words shared between all the routes.



Lycoris was allegedly a hostess that worked at the KTV bar, but in reality, she was a member of an assassin syndicate called "the Web".
She was working for Lau Kin Ming, a police inspector, to kill members of underworld mobs.
One day, Lau Kin Ming ordered her to kill his subordinate, Lai, because Lai discovered that he's using an assassin syndicate.
But she refused and killed Lau instead.
As a result, she is currently being pursued by the syndicate and Lai introduced her to Yeung Kwun, the leader of the Red Flower Society, an underworld mob that operated in Kowloon, Hong Kong.
Yeung Kwun sent her to Bangkok to hide her from the Web.
In Bangkok, she happened to see Zhang Lei, her regular customer at KTV bar and also the leader of HH brothers, an underworld mob.
Wolf, Lycoris' childhood friend, accompanied Zhang Lei.
Meanwhile, a probationary inspector, Sam, and a senior constable, Chase, were investigateing the death of Lau Kin Ming.
Looking for evidence of who murdered Lau, Sam found his colleague, Lai, was with a woman from CCTV footage.
Sam suspected that Lai was involved in the murder.

Lycoris gets acquianted with a few professional killers in Bangkok.
Deu kills people for money to provide for her sick brother.
Ren asks Lycoris, "Us bloodthirsty monsters have to be tied to something, don't you think?"
Wolf is always seeking his own death.
Lycoris felt that assassination is a job as normal as any other, but by their words, she wonders why she kills people.
After Lycoris saved Zhang Lei in Bangkok, she decided to stay in Zhang Lei's house.
Zhang Lei confesses to Wolf that he was deeply involved with Lycoris' personal history.
Oblivious to his involvement in her past, Lycoris' touch alleviates Zhang Lei's loneliness.
A probationary inspector, Sam, was aware that the hostess named Lily was involved in murder Lau Kin Ming's murder.
Lycoris approaches Sam to lead the investigation astray.
Meanwhile, Sam's daughter is kidnapped and Lycoris tries to rescue her.
Chase, a mole in the police for the HH brothers and a senior constable, helps Lycoris lead the investigation into a dead end.
As Chase gets to know Lycoris better, she causes him to question the circumstance he finds himself in.

Some surveillance cameras were mysteriously planted in Lai's room.
Lycoris replaces them with dummy systems and, while staying with Lai, she tries to check who planted them.
While he frequented the KTV bar, Lycoris showed a different side of her personality to him. Seeing Lycoris' true nature, he feels lost.
Lycoris' pursuers from the Web found her.
Yeung Kwun negotiated with Chen, an officer from the Web, which lead to Lycoris acting as Francis' assistant until the Web determines a dispute.
This route leads to the events that occur in all of the other routes of the previous game, Red Spider: Vengeance.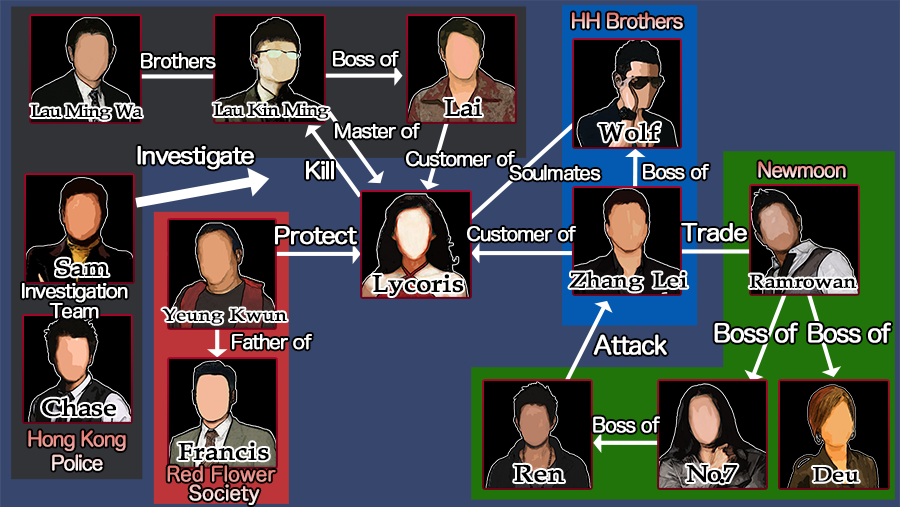 Windows / Mac OS (for free)

Android (for free)

iOS (for free)

Compared to Red Spider: Vengeance, Red Spider2 is longer, the characters and stories more in-depth, and the concepts more complicated.

I enjoyed the depth their is to the characters and the way the characters were developed more and more each track.
I think I particularly enjoyed the way the game brings subtly brings up certain social issues (hikikomori, power relationships, gender issues, etc.) in a way that causes you to think about them from a fresh perspective.
While it is a game, it almost acts to subtly challenge the very culture the game itself is based on, causing you to engage with new ways of thinking while playing.
The twists and turns of this game, the depth of its characters that develop throughout the different story-lines, and the way their lives are skilfully and subtly intertwined make for a fascinating game for anyone who enjoys a good novel and wants to lose themselves in the world of Hong Kong noir for a while.

The characters in the game will have you engaging with underworld culture from a new viewpoint and they will pull so you far into their worlds that you'll miss them when the game's over!
I liked the story quite a bit.
I think one of my favourite parts was how many links there ere to the original game, like when Lily spoke to Peter in Counter-Strike.
It actually reminded me a bit of Estpolis Denki 2 (like when Maxim goes to a mountain, finds the Priphea Flower and gives it to that girl that was sick, which connects to the first game because Lufia liked it so much).
I think the characters were better as wel, and I like how the story has more changes when you go through the first route.

I think the only thing I didn't like was how some characters kept dying on different routes, but I understand that their deaths are good for showing how dark the world that Lycoris lives in is how their deaths are important for the story.

Title
Red Spider2: Exiled
Platform
Adobe Air Application(Windows/Macintosh/Android/iOS)
Required software
Adobe Air Runtime
Resolution
1280x720px
Genre
Hong Kong Noir style Visual Novel
Inspired by the Infernal Affairs series and Johnnie To's films
Age recommendation
Recommended for age 15 and up due to one instance of violence.
Play time
12-13 hours (for All route. About 2 hour for each route.)
Game Engine
Developer
studio wasp
Music
Music composed by Yasunori Shiono (the main composer behind the Lufia series):
Title theme:"Fulltime Killer"
Main theme:"Running on Karma"
Ending theme:"Exiled"
Red Spider OST-Title: "Red Spider Lily"
Red Spider OST-Opening: "Red Spider"
Red Spider OST-Theme: "Vengeance"
Red Spider OST-Ending: "Retribution"
Music composed by Yukio Nakajima (behind Puzzles & Dragons and Energy Breaker)
"Diversion Fight"
"Undercover"

Deceased Superior Technician
Background image
download 3d house